ABOUT US
Epic Beer, founded by Luke Nicholas is a multi-award winning brewery in the heart of Auckland, New Zealand. 16 years down the track, Epic is one of the most well-known craft breweries in the country; delivering exceptional hop combinations and beer favourites in the market. Epic is a New Zealand family owned business, with Wendy, Luke's wife, as his right hand woman when it comes to all things Epic. Although this brewery is small in size, with only 15 employees, they make up for it in what they produce. Epic Beer is known for its quality craft, enormous amount of hops and the consistency of a truly tasty beer.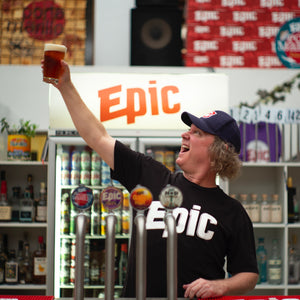 EPIC ETHOS
Epic Flavour
It reflects the way I like to brew beer. I like to have big aromas, flavours and taste in the beers.
Epic Challenge
To start a beer brand in this day and age, in a mature market, dominated by multinationals with huge resources, and the public perception that beer is a low value commodity, is a big challenge.
Epic Journey
Everyone that lives in New Zealand, or traveled here for a holiday, they at some point in their or their ancestors lives had to make an Epic Journey. Whether it be by canoe, sailing ship or commercial airliner they traveled a great distance to the end of the world to be in this beautiful country of New Zealand.