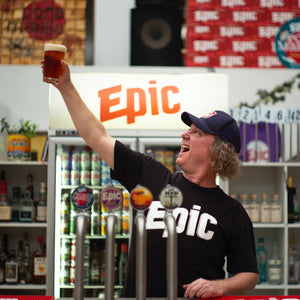 MEET THE BREWER: LUKE NICHOLAS, EPIC BEER
Owner of Epic Beer, Luke Nicholas has been brewing for 25 years - that's half his life! 
"I grew up around home brewing, with my grandfather starting brewing after WWII. It's been in my family a long time."
After home brewing at university and then as a hobby while living in California in the 90s, Nicholas returned home to New Zealand. Asking the local brewpub for a job, he promptly turned his hobby into a profession.
---
Nicholas' approach has always been about making the best beer he can. This involves using the best ingredients, which sometimes means importing. At Epic Beer, the team uses a lot of US grown hops, due to their intense tropical fruit and citrus characters. For more than a decade, Nicholas has visited the US during hop harvest, getting out in the fields, meeting the growers and understanding where the hops are coming from. 
"Over time, I got to know the hop growers and their families. Our business is a family business and we know the families that grow the ingredients that make our beer. This is really important to us."
Nicholas has paved the way to innovation in adding hops and dry hopping beer in New Zealand. Epic Beer was the first to brew an American IPA, and the first to brew a Double IPA. 
"Many brewers either are in awe of how we capture the hop flavour and aroma - or can't believe we actually use the amount of hops that we do."
To Nicholas, a great brew is one that has a balance of all flavours. The beer should be seamless, so nothing stands out by itself.
"Balance makes for the perfect drinking experience."
He finds reward in creating new products that people enjoy.
"Creating and bringing joy is the most satisfying part of brewing."
---
Nicholas has had the privilege to brew with some of the greatest brewers in the world and travel to some of the best breweries. He featured on the Discovery Channel's 2010 series Brew Masters in his collaboration with Dogfish Head Brewery in the US. The collaboration saw a brew made with Tamarillos, smoked with Pohutukawa wood, batch tested in Rehoboth Beach, Delaware before making a big batch back in Auckland. The beer was entered into the New Zealand Beer Awards and released at Beervana.
Nicholas has also collaborated with other brewers in Australia, US, Sweden, UK and China.
A mighty achievement though, Nicholas is three-time winner of the Supreme Champion Beer of New Zealand.
Article by Supermarket News.
---