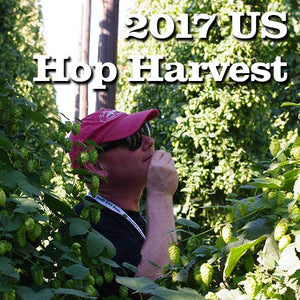 2017 US Hop Harvest
The US Hop Harvest is a big deal for us. Luke has the privilege of heading to Yakima in Washington State every year to select hops from the year's harvest. After visiting a bunch of different hop farms, meeting the growers and finding the best crops, Luke will make his selection at
YCH Hops in Yakima
. We'll be documenting the highlights of this year's trip here, so stay tuned!
---
WHERE IS YAKIMA, ANYWAY?
Since I have been writing this blog about Luke's travels in the US, there have been quite a few people asking where Yakima is - and rightly so. Yakima is about 200 km South-East of Seattle, Washington State. Yakima could be called the "Home of US Hops", and this is why
(from http://washingtonbeer.com/washington-hops/
):
Washington state's Yakima Valley is home to one of the most fertile and productive hop growing regions in the world. The hot and cool desert climate, combined with the abundant irrigation provided by the Yakima River, creates an ideal environment for producing this key beer ingredient.
The valley is divided into three distinct growing areas: the Moxee Valley, the Yakama Indian reservation and the Lower Yakima Valley. And each of these areas, although no more than 50 miles apart, possesses unique growing conditions.
The Yakima Valley contains approximately 75 percent of the total United States hop acreage, with an average farm size of 450 acres (182 hectares) accounting for over 77 percent of the total United States hop crop. Most hop farms in Washington are third or fourth generation family operations that have now diversified into other crops as well. Most hop growers also grow fruit, but some grow mint, grapes and even row crops. Typically, a Washington hop grower will raise a combination of both aroma and alpha variety hops. The majority of the hops produced in Washington, however, are alpha and super alpha varieties.
The Hop Fields at Carpenter Farms - Granger, WA.
Downtown Yakima, WA
This is where you'd expect to find a bunch of brewers at this time of year!
So, travelling all the way to Yakima every year is a big commitment. I asked Luke why he goes to all this effort every year, this is what he had to say:
"I love the aromas and flavours that come from the hops grown in the Yakima Valley. I love brewing with these hops, and love the beers that these hops make. This is why I make such an effort each year to fly to the other side of the Pacific Ocean, to find the best of what they have, and bring it back home to New Zealand to brew with."
---
MORE HOP SELECTION - SIMCOE
---
THE BREWER'S CUT - CASCADE HOPS SELECTION 2017
---
YAKIMA: HELLO, HOPS!
---
ONE MORE DAY IN SAN FRANCISCO
San Franciso: Luke is in San Francisco before heading off to Yakima tomorrow. His main objective: Find more hops to keep our beers, well, EPIC. No pressure, right?
---
LUKE HAS LANDED!
Heading north over the Golden Gate Bridge
---
AKL - SFO
Off to find some sweet hops!
Luke's chariot awaits...
---