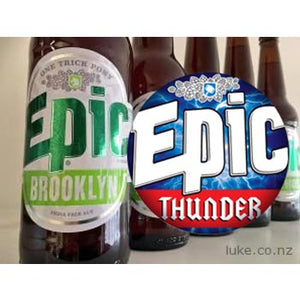 Brooklyn & Thunder – Two New EPIC Beers
This week you should start seeing two new Epic beers arriving at your usual craft beer outlets. Epic Brooklyn OTP (One Trick Pony) is the next in a series of single hopped IPA's. The Brooklyn hop is a brand new release from NZ Hops, and was made commercially available in December 2015, with Epic being the first brewery to place and order and brew with it. One Trick Pony beers all use the same recipe, and just replace the hop. The Brooklyn hop, as all the others before it (Zythos, Mosaic, Comet & Equinox) is added in three additions to the kettle, one addition in the whirlpool, and two dry hop additions. This results in a beer that showcase these new hops to their full potential. There is a minor change beyond the hops, which is the ABV, it increases by 0.1% for each batch, kind of like a version number. So this new OTP beer Brooklyn is 6.4% abv As with all One Trick Pony beers, there are no points of reference when brewing these new hops. The key is to smell and taste the hop and the beer as many times through the process as you can, to start learning its traits. The most interesting thing about the Brooklyn hop is it has a big orange peel character in the aroma, as well as the flavour. There are also tropical fruits, passionfruit and some grapefruit that you get from this new hop. This will likely become a new favourite hop for many brewers for late kettle hopping and dry hopping.
Epic Thunder APA 5.8%abv, is the first in a series of beers under the "Stone Hammer" name. (NOTE: This is a KEG ONLY beer) The series has been inspired by our legendary Sales Manager - "Sten Thor Soren Hansen". In some circles he is just referred to as "Thor". So off the back of this we have named a series of beers we are releasing in 2016 after him. The first beer Thunder was originally called Sten, but he didn't like that. I won't hint at the next beers in the series just yet, but you can look forward to something special coming soon. What I will share is that Epic Thunder APA is driven by a massive amount of Mosaic hops. There is no way you are going to miss the huge aroma of passionfruit and ripe mango. Or these flavours as the hop oils envelops your tongue. As one person has already commented "this is the best new beer release in New Zealand in a long time" The teaser video has had some great feedback too, and hope that it captures some of the attitude this beer has. [See video here] The name Thunder (because we couldn't use Sten) was actually chosen in the middle of the AC/DC concert in December, during the song Thunderstruck. Hence the choice of font. But after the news of Lemmy's passing right after Christmas, and listening to a lot of Motorhead over the holidays, including the new Motorhead album Bad Magic, the song Thunder & Lightning has become the theme song for this beer as a tribute to Lemmy. So here it is so you can give it a listen. Thunder & Lightning. If you don't know much amount Lemmy, you should check out the documentary - Lemmy.
---