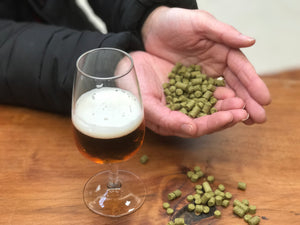 Ed's Top Five Hops
If you haven't already figured out, hops are a really important part of what we do at Epic. We love the flavours that hops give beer, and we put a lot of effort in selecting the right types of hops, as well as how we use them. Luke will be heading to Yakima soon to select our hops from the 2017 US Hop Harvest. Here's a fun fact for you: Epic has used more aroma hops than any other brewery in NZ in the last ten years. I had a chat with Ed Jefferies, Epic Production Manager, on the subject of hops. If we had the time, Ed could have talked about hops all day, but this would distract her from her (extremely important) job of making sure that our beers are produced. I don't want to be held responsible for that, so I decided that I'd narrow the discussion down to her 'Five Favourite Hops'.  This is what she had to say about them.
---
Ed's Top Five Hops
5. Amarillo
This is a tasty hop that gives beers a subtle but tasty flavour of stonefruit. If you've tried our Awakening Pils, the flavour of apricots and peaches sits perfectly with the crisp and refreshing bite from the bittering Chinook hops. 
4. Columbus
If you tried Rocket IPA from the Hysteria Series, you'll know all about the huge 'diesel' hit that this hop gives (this description doesn't really do it justice). Columbus also gives a subtle pepper aroma along with a slight liquorice flavour. This hop is powerful, resinous and offers a well-balanced bitterness. Like me, it doesn't do subtle.
3. Nelson Sauvin
This beer drove our Dankomatic IPA back in 2016. This is such a big hop - the quintessential New Zealand aroma hop. It's a great hop to use to balance out some of the huge US hops with a bit of homegrown flavour. This dank, resinous and grassy hop has featured in recent beers such as Big Bang Double IPA and Son of Thor IPA.
2. Citra
Citra is one of our most commonly used hops. As its name suggests, it offers a beer citrus-driven aromas and flavours, such as grapefruit, lime and even a bit of passionfruit.  The Citra hops really come through in Hysteria IPA where you get that awesome bitter kick, but the syrupy citrus aromatics drive it home.
1. Mosaic
Ah, Mosaic... I can't stress how much I really, REALLY, love this hop. The beauty with Mosaic is that it can be blended with so many different hop styles and you can achieve very different results with each blend - it's appropriately named, right?! This multi-dimensional hop has driven some of our most popular beers ever: One Trick Pony - Mosaic, plus the recent release, Magic Dust - which coincidently was our fastest selling beer ever. For Magic Dust IPA, we used Mosaic LupuLN2®, or Lupulin Powder, thus the name.
---
So, next time you enjoy an Epic beer, know that there's been a lot of thought into how it has been made, what hops should be used to deliver the flavours that we love.
---