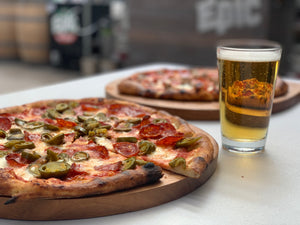 Epic Beer's Sprawling Taproom Is Now Open in Onehunga
Epic Beer's Onehunga taproom originally launched as a pop-up in October 2019 and has since been operating across select weekends with special liquor licenses. After more than 12 months of delays from COVID-19 and a drawn-out licensing process, the craft brewery's sprawling space is now open to the public.
The taproom can be found right in the middle of the brewery's functioning warehouse down the driveway at 230B Neilson Street. The delightfully no-frills beer hall was inspired by owner Luke Nicholas' trips to similar industrial spaces in Los Angeles.
Between the warehouse roller door, wooden storage pallets and walls lined with product, there are plastic picnic tables and vintage furniture scattered around the concrete slab for seating. Arcade machines, including classics like Daytona USA, Time Crisis and Street Fighter II, sit in their own dedicated gaming corner and a massive industrial fan keeps things cool in the warmer months.
A visit to the taproom means the opportunity to try the latest Epic releases on tap. There are popular releases like the 'Armageddon' IPA, 'Joose Party' hazy pale ale and 'Hop Zombie' imperial IPA available by the pint or as growler fills to take away. The full range of canned and bottled beers can be picked up from the fridge.
For sustenance, the kitchen serves up antipasto platters, calzone and pizza — including margherita, pepperoni and fig and prosciutto. Kids and well-behaved dogs are welcome, too.
Find the Epic Taproom at 230B Neilson St, Onehunga. It's open 12pm to late Friday, Saturday and Sunday.
https://concreteplayground.com/auckland/food-drink/epic-beers-sprawling-taproom-is-now-open-in-onehunga
---