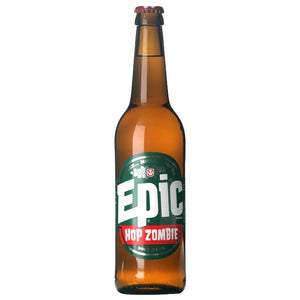 Epic Hop Zombie Wins NZ Food Awards
Epic Hop Zombie has won the Countdown Alcoholic Beverages Award at the New Zealand Food Awards 2017. The New Zealand Food Awards are a highlight on the industry calendar and showcase the best of the best amongst New Zealand's food and beverage industry. Winning products earn the New Zealand Food Awards "Quality Mark" to highlight the superiority of their products to both shoppers and industry, plus achieving national and international recognition. On winning the award, Epic Brewing Company owner Luke Nicholas said "it is fantastic to get industry recognition beyond just the beer and brewing industry. Hop Zombie has been such a huge success for us since it was launched as New Zealand's first double IPA back in 2011" Nicholas says "demand for Hop Zombie grows year on year. With its cult following it took four years to be able to secure enough hops to be able to keep up with demand and supply it all year round, and then to start looking at export markets". This latest accolade for Epic Hop Zombie joins a list remarkable acknowledgments for the beer in the last year.
 In China, it was ranked #8 best craft beer in China, with Epic Lupulingus IIPA at #10. Hop Zombie has become Epic Brewing Company's most successful export, with it being the number one beer exported to China, which is Epic's largest export market. In the USA Epic Hop Zombie was ranked #10 in the top 10 imported beers in the US in Zymurgy magazine. Epic Hop Zombie is a Double IPA at 8.5% alc/vol which is a strong version of an IPA. It uses NZ and US grown hop varieties and a blend of English and German grown pale malts. This combination of malts and hops produce a beer with a pale golden colour, a huge tropical fruit aroma, with passionfruit, mango and citrus flavours. Epic Hop Zombie has recently been ranged nationwide at Countdown supermarkets.
---