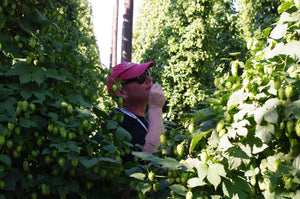 Epic + Hops = First, Best, Most, Only, Greatest and Supreme.
When people think about beer from Epic, the first thing that jumps to mind is big hoppy beers. They would be right as we not only brew with massive amounts of hops, but also visit the hop fields and know the hop farmers to get the best hops in the world. Not many brewers in New Zealand do this locally, and none visit the hop farmers on a yearly basis in the US.
Here are some fun facts as to why
HOPS = EPIC BEER
.
Epic Brewing Company used the
MOST
AROMA HOPS
in the last 10 years, more than any other brewery in New Zealand.
Epic Brewing Company is the
LARGEST IMPORTER
of US hops to New Zealand over the last 10 years.
Epic Pale Ale was the
FIRST
American style Pale Ale to be released in New Zealand in 2006.
Epic Pale Ale won
SUPREME CHAMPION
beer at the 2006 NZ beer Awards on the eve of its official release.
This beer changed the face of craft beer in New Zealand.
Epic Pale Ale is made with US grown Cascade hops, the
NUMBER ONE
aroma hop in the world.
Epic Armageddon IPA is the
MOST
awarded IPA in New Zealand - read this.
Epic Armageddon IPA was the
FIRST
commercially bottled American style IPA brewed in New Zealand.
Epic Hop Zombie was the
FIRST
Double IPA released in New Zealand.
The
ONLY
New Zealand brewer to visit Yakima every year for hop harvest and visit the hop farmers.
When I started out brewing, it was obvious that I was never going to be the BIGGEST, but I could strive to be THE BEST. To be the best, it was logical to use the best ingredients I could find for the best beer you want to make. Sometimes you have to search the whole globe to find the best. Best ale malt from England, best Pilsner malt from Germany, best hops for American IPA's from Yakima.
Many people have asked me why I don't use all New Zealand hops and all New Zealand malts. For some people this is hard to hear, but sometimes those New Zealand ingredients aren't the best for the styles of beer I like to make. Other times they are the best for the flavours I want, but not every time.
I love the aromas and flavours that come from the hops grown in the Yakima valley. I love brewing with these hops, and love the beers that these hops make. This is why I make such an effort each year to fly to the other side of the Pacific Ocean, to find the best of what they have, and bring it back home to New Zealand to brew with. Guess what? It isn't just me that gets the joy of drinking the beers I brew with these gloriously aromatic hops. You to can buy these beers. It's a beautiful thing.
---