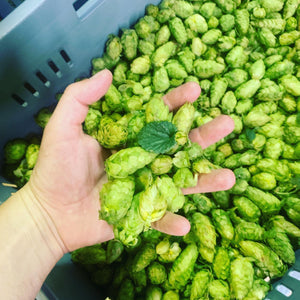 Go green: Craft beer brewers celebrate once-a-year fresh hops event
There aren't many drinks that start with a dawn dash to the airport, but green hops craft beers do.
Using fresh hops is a race against time for Kiwi craft brewers keen to take part in the once-a-year opportunity. They only have a 24-48 hour window to capture the little green flowers' unique, aromatic flavours once harvested.
The clock is already ticking when they're picked in the Tasman area in the wee small hours. They'll only be good for a few hours more, so it's onto the first flights out to Wellington and Auckland, into a van and the quickest route to the brewers' boiling kettles.
"We had them pretty much from the field to the beer in 24 hours," says Epic Brewery founder Luke Nicholas.
"It was exciting, and it came at much expense, but I'm super proud of the result that we've got."
What they've got is Green Machine, a fresh, vibrant IPA, with spicy, floral notes that's unlike anything else you'll drink during the rest of the year. It's made with a new hop variant from NZ Hops, Nectaron.
"It's a really intense, aromatic flavour – I want to use the word intoxicating, but that's more alcohol term," says Nicholas.
"It's like a perfume-y flower. Spicy and resinous, nearly piney, with a tropical fruit character. It's got all those underlying hops flavours, but also the wonderful volatile compounds that you don't have access to once hops have been dried."
Even without the trips to the airport, using fresh hops is not an easy process.
Auckland's Epic Brewery hasn't made a green hops beer in years, simply because they're set up to use the more common dried hops pellets. But when the option came to be among the first brewery to try out Nectaron, Nicholas jumped at the chance.
"This is pretty exciting, I'm happy to give it a go."
NZ Hops, a co-operative of hops growers in the Tasman area, sets aside a portion of the harvest to send out as fresh hops in its "raw, unadulterated form", each year.
---