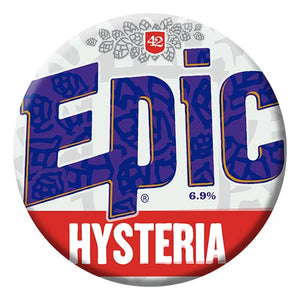 Hysteria IPA - It's Such a Magical Mysteria...
You love hops. We love hops. You love IPA's. We love IPA's. The Hysteria project continues with our latest remix of the Armageddon IPA recipe. This time pushing the edge of how many hops we can add to the whirlpool. Haha, maybe a little too many. Fanatical. Mysterial. Hysterical. Hysteria is our 2017 entrant to the 10th Annual West Coast IPA Challenge in Wellington. It will be launching into the wild on Tuesday 1 August 2017. About the beer:  ABV: 6.9% 
FIND ON UPTAPPD This is the third release in the IPA Hysteria series and follows on from Gods of War and Rocket. Hysteria is a perfect name since its releases is timed with the 10th Annual West Coast IPA Challenge held in Wellington, where Epic IPA's have won four times. This time around we have pulled out all the stops to see if we can level up the Armageddon recipe. A little change to the malt with the use of some US grown Pale Ale malt. Also some tweaks to the hops, this time including some NZ grown hops. The NZ grown hops have had a noticeable influence on the aroma and flavour, giving it a real NZ IPA feel. Sub tropical fruit notes with hints of green mango and passionfruit. Distribution: New Zealand and Australia (Australian dates TBC).
---