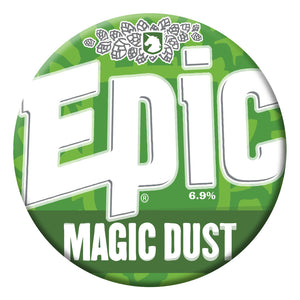 Magic Dust - A Hop Revolution?
You may remember last month
we wrote about the brand new product
called Lupulin Powder, or 
LupuLN2™ from our friends at YCH Hops
: We are the first brewery in New Zealand to import and use this product. LupuLN2 is essentially the concentrated lupulin from whole hop flowers, with all of the extra vegetable matter removed by a cryogenic separation process. This makes for a much more efficient brew, and as you'll find out - it tastes really good too!
About Magic Dust IPA
Magic Dust is built on the original "Mosaic – One Trick Pony" beer. It has is a rich copper colour with a wonderful hoppy aroma of passionfruit and citrus, the lupulin powder delivers a sticky guava flavour with medium bitterness and a hoppy aftertaste. ABV: 6.9% IBU: 45 Hops: Mosaic (LupuLN2™) Malt: Pale Ale
Where to get it
Here are just some of the confirmed locations so far: 16 Tun The Lumsden Free House Liquorland Newmarket Liquorland Mount Maunganui & Tauranga Hamilton Beer & Wine Co Malthouse Bebemos Volstead Trading Company
---