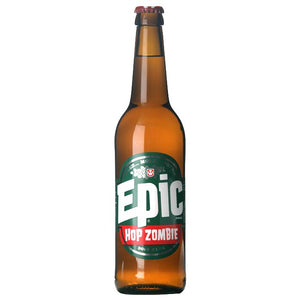 Return of the Epic Hop Zombie
Hop Zombie was arguably New Zealand's most successful craft beer release of 2011. With its invasion, Epic continued to push the hop envelope.
Ravaging hordes of craft beer drinkers scoured the shelves of every bottle they could find, hunting them down via word of mouth and social media in what one could only compare to preparation for a coming apocalypse.
Unfortunately, the supply of top secret special hops for this highly aromatic beer were exhausted - not only at the brewery but on the whole planet!!
No one had any. Not only had the hops run out, but the next year's crop had also been fully pre-sold. No Hop Zombie until 2013!!! Noooo!!!
The guys at Epic Brewing Company just couldn't accept this. They spent months scouring the earth, trying to find these highly desirable and aromatic hops. A small amount of the elusive hop, grown in Washington state in the USA, was found hiding in a sleepy corner of the UK. They were quickly air freighted (don't tell the bean-counters) to NZ to brew another batch of palate infecting Hop Zombie.
Yes, the rumors are true, Hop Zombie is back!
Keep a lookout for Epic Hop Zombie arriving on shelves in local stores in the coming weeks. They'll be easier to spot at night with their new glow-in-the-dark labels.
---