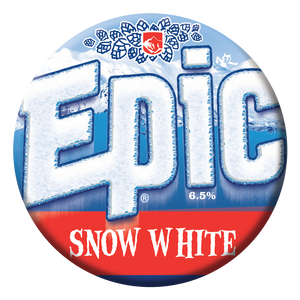 Snow White Alpine Pale Ale
TEASER ALERT...
So you've probably already seen this video: Well, the fruits of this Epic Mission have come together. There are two things that Luke traditionally doesn't really like: 1. The cold 2. Brewing with wheat malt Regardless, Luke has battled the elements  & created this beer which combines these things, as well as a few wicked others to create this freaking awesome beer.
Launch events:
16 TUN in Auckland: 10 August Malthouse in Wellington: 13 August Craft Hamilton: 18 August
Beer Style:
White IPA (Alpine Pale Ale)
More about the beer:
ABV: 6.5% IBU: 35 Earlier in the year there were several news headlines about bad weather referring to "Epic Thunder", a beer we had just release, many people commented on the free publicity. A few weeks later there was an "Epic Snow" headline so we took it as a sign for the next beer we should brew. We had penciled in brewing a White IPA this year, so this was perfect. To make the beer "Epic Snow" it was decided to head to the mountain and collect some snow to brew with (as per video). What makes this beer different? We have brewed it with wheat malt for the pale hazy appearance. The noticeable orangey citrus character comes from the marriage of crushed coriander seeds and the Cascade and Centennial hops. The fruitiness comes from the really warm fermentation with a special ale yeast.
Where & when you can get it:
We will have a
launch on Wednesday 10 August at 16 TUN in Auckland
.
Bottle stock is now out in the wild!
---