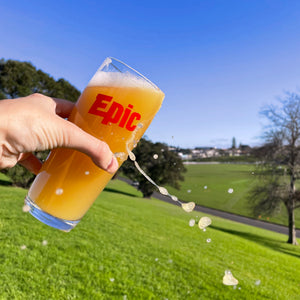 STATE OF THE HAZY NATION REVISITED
It was so great to read the article written by Martin Bridges. I thought it might be fun to write a reply which may add a different perspective to hazy beers in New Zealand.
It is interesting how Martin starts out basically by saying he isn't much of a fan of Hazy IPAs and prefers clear West Coast IPAs. I too would rather have a West Coast style IPA with its dry and confronting bitterness, balanced with the upfront fruity/tropical/piney hop flavours and aromas. Many seasoned craft beer drinkers and brewers don't like, or prefer not to drink, Hazy IPAs. They would much rather have a West Coast IPA.
After much reflection over the last few years I think I understand the why and the how of Hazy IPAs. The earliest wave of craft beer drinkers got a taste for craft beer via pale ales generally with the use of the 'C' hops such as Cascade, Centennial, Columbus and Chinook. The next wave was the big West Coast IPAs using Simcoe, Citra and Mosaic, with more dry hop, more flavour and more alcohol. It was an arms race for many years as brewers worked on adding more and more hops, which resulted in more alcohol to be able to deliver more flavours, which resulted in the Double IPA.
The West Coast IPA brewers had a brash, more aggressive, attitude to packing punch into their beers including the hard water which gave the brutal bitterness and the drying finish. The East Coast of the US is a world away from California and Oregon, and much closer to the UK, and that influence can still be seen today with the malt character in East Coast beers aka New England IPA (NEIPA).
It was nice to see the small call out to the 'Mule'. I'm sure Martin had many of his first US NEIPA experiences at Epic Beer HQ during what we would call 'Mule Tastings'. We had a friend that was an airline pilot based in Australia who would make trips from though Auckland on to LA and then New York. He was new to drinking craft beer and would head to the US with arm-loads of Epic beers to trade. I introduced him to local craft beer fans, drinkers and brewers who I had met over the years in the US. The Mule would trade Epic beers for anything new, or things we wanted to try. As the Hazy IPA craze took off in the US we started to get more and more of them muled in.
As I was reading more and more about NEIPA as the hot new thing, Sten, Epic's national sales manager was on my back to make one as brewers were starting to release them in here. I couldn't understand why anyone would want to drink hazy, unfinished beer. I had spent my career in brewing to that point trying my hardest to mark the beer as bright and as stable as possible. Hazy went totally against everything I believed in. I spent two years researching what a good hazy IPA was, what it tasted like, how it was made and why people liked them. I had them 'muled' in from the US, in some cases these were beers that people would stand in line for 4-6 hours for the privilege of buying a six pack which would then be sent back to New Zealand within a few days so we could try them fresh. When I travelled to the US I would hunt out the best hazy beers in each city I visited and go to the brewery and taste the beers fresh and talk to the brewers to understand what they were doing.
I worked out what a good one tasted like and how to make it, which didn't include adding apple or orange juice. It ended up being pretty simple to make the optimal hazy. There were a couple of hops — Citra and Mosaic — which delivered the big juicy flavours, and a couple of hazy yeasts strains that were popular and ensured the beer stayed hazy. Plus some oats and a tweak to the water.
I started to formulate the ultimate Hazy IPA recipe (well in my mind anyway) from two years of research. It was ready. And we launched Epic Wonder Joose, which was a huge success. We were over 18 months' behind the market but we arrived with an Epic entrance: big tropical fruit aroma and a wonderfully juicy flavour with low bitterness.
After a month Sten asked: "What's your next Hazy IPA?" I'm like "WHAT?". We need to come up with a new Hazy IPA every month to keep up with what the market wants, he said. That set me a big challenge, but also what an incredible opportunity to try all sorts of different fruity hop combinations in the search for the ultimate match. It's funny after all this time I still think that Wonder Juice is the best combo that captures the style the way I see it.
The thing that took me a long time to get my head around, however, was why people liked it. I thought everyone would love West Coast IPAs like I did. What took me a while to understand was the next wave that was discovering craft beer was different to my generation. They needed a different gateway, one that was less confronting, less bitter, more fruity, and something that was theirs, something they discovered themselves and something that was new that they could own. Once I realised this, I was able to connect with these new craft beer drinkers because they had had that epiphany moment where they realised how amazing the intensity of hops can be. In the end, they were the same as me. These were my people, they just found a different path to get to that big hop hit.
People ask me a lot what I think is going to be the next big thing after the Hazy IPA. Is it going to be sours? Fruit beers? I have thought a lot about it and I think hazies have a place on the beer shelf which won't go away. Some brands might but the style won't.
If you look at the broad beer market there is mainstream beer which is essentially bland, industrial lager. Then there is the craft beer market which is essentially some level of hopped pale ale, including all the iterations — pale ale, IPA, Double IPA, Hazy IPA, Session IPA — pretty much an ale that has some hops in it, that really isn't bland industrial lager. So basically beer with flavour. Yes there are so many other beer styles, but if you look at what makes up the bulk of craft beer, it is a variation of pale ale.
As for "peak haze"? Yes there are too many Hazy IPAs, which means there are hazies aging on the shelves, which means they will taste bad when people try them, which will result in them not buying that hazy again, or even buy any hazies from that brewery again. So, the challenge now is to keep the hazies fresh or they won't be made again because there won't be demand for them.
How about this as a parting question to think about. Would Hazy IPA exist if the market didn't change to cans?
- Luke Nicholas is the founder of Epic Beer.
ARTICLE: THE PURSUIT OF HOPPINESS
---