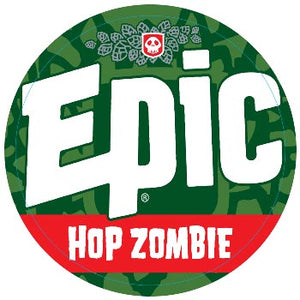 New Zealand's Hoppiest Brew
How many hops can you fit into a bottle of beer? Does fifty seem like too many? Most of the beer produced in New Zealand today uses the equivalent of less than one hop per bottle. Auckland's Epic Brewing Company have done exactly the opposite and utilised this intensely perfumed flower to the greatest of their ability. Epic, founded by Luke Nicholas in 2006, is known for its big hoppy beers, especially their Epic Pale Ale and the boldly hopped Epic Armageddon IPA. They've now taken hoppiness to a whole new level with their new double IPA, the Hop Zombie.
Double IPAs originated on the American West Coast, where the innovative breweries pushed the limits of the IPA and created a whole new style. At the centre of this tweaking was adding more hops - a lot more hops. Brewers use hops for flavour and aroma, with different hop varieties giving many different flavours, from resiny pine to floral citrus. With this in mind, Epic's Luke Nicholas and Kelly Ryan decided to develop New Zealand's hoppiest ever beer.
Kelly, former Brewery Manager of highly acclaimed and awarded Thornbridge Brewery in the UK says, 'Hops are the equivalent of the herbs and spices used in cooking. Some recipes demand subtlety and balance, others are all about intensity of flavour. Double IPAs are the beer equivalent of Thai and Indian foods - while taking taste to its extremes, they're also quite balanced.'
With all this in mind, Luke and Kelly used four different hops, two from New Zealand and two from the United States, chosen for their intensity and ability to deliver a soft bitterness, even at high levels of use. The beer is relatively high alcohol, at 8.5% ABV, which provides some sweetness to help balance the hop bitterness. They also used a combination of premium British and German malts, giving Hop Zombie a generous amount of body to aid with balance in the mouth.
The Hop Zombie has huge tropical fruit characters on the nose, mango, guava, and a hint of ripe raspberry, which continue in the mouth, with a rich sweetness and mouth-coating hop character and bitterness. With a meal, Hop Zombie is a great replacement for a sticky desert wine. Full of flavour and easily matched to full-flavoured washed rind or blue cheeses, Zombie would also match something acidic and sharp as well - a well-matured cheddar, for instance. Or, it's great on its own, while you let the massive flavours wash over you.
---